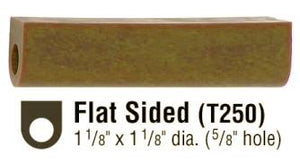 Ferris® Gold wax block is a high-quality carving wax that balances flexibility with hardness, making it ideal for a variety of applications. The wax is formulated to perform well for traditional hand-carving techniques as well as in high-speed milling equipment; its non-gummy formula won't clog tools or load hand files.


T-250: 1 1/8" x 1 1/8" dia. (5/8" hole)

image is for size reference only.