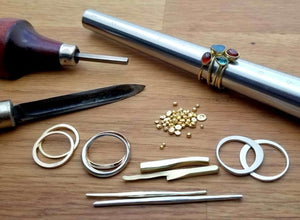 Refine your jewelry making skills in this 8 session goldsmithing course. You will learn about the various alloys and their solders, what to watch out for when heating and cooling, and go over everything from flux to final polish. Fabrication techniques in gold will include hammer forging, using the rolling mill, drawing wire with draw plates, dapped bezel settings, and more. Students can combine gold with silver in their pieces for cost savings and will have the opportunity to melt scrap or new metal to pour ingots for milling sheet and drawing wire. Most students can complete all coursework for this class with 7 dwt of alloyed metal.
The first day of this course will be an alloying and ingot pouring demonstration. Students should come prepared with their casting grain to pour their ingot as well. 
Students will have the opportunity to order metal through Hoover & Strong, a responsible and eco-friendly refiner and manufacturer of precious metals including Harmony recycled metals and artisanal Fairmined and Fairtrade gold.
This sourcing information will be shared during the Goldsmithing Lecture. 
This is an intermediate level class.  
Basic jewelry fabrication and metalsmithing experience, including soldering proficiency and creating bezel settings, is required. Students are expected to spend time outside of class in order to complete all projects introduced during the course.
Students are required to take our Conversation on Goldsmithing as an introduction to this course. Please register here. Any questions about the supplies and materials required for this class will be answered after the lecture so that students can come prepared for our first session. 
Class size 4 – 10 students. Masks are optional, not required.
All students receive a 50% discount on hourly bench rentals throughout the duration of their course.
Refunds & Credit

Please email us at info@bkmetalworks.com to withdraw from class. Withdrawals from class more than 7 days prior to the start of the class will receive a full refund for the class minus a 10% processing fee. If cancellation occurs 3-6 days prior to the class, we will provide a 50% refund. Cancellations 48 hours or less receive a 25% refund. Refunds will not be provided for no-shows or same-day cancellations.

We do not refund tuition for classes that students miss due to their own circumstances. Students enrolled in multi-session studio courses (excluding workshops and intensives) may make-up missed class sessions during open studio hours for up to two weeks after the last class meeting.

We reserve the right to cancel or discontinue any class, in which case you may choose to receive a refund, apply the class credit towards a different course, or receive a tuition credit for future use. Tuition credits are valid for up to one year. Refunds will be issued within 30 days.