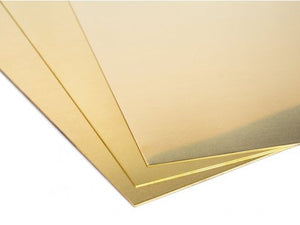 6"x6", 6"x12", 12"x12" and 1 ft. x3 ft. bronze sheet available in 5 different gauges.

Bronze is a copper-based alloy that typically consists of approximately 88% copper and 12% tin. Trace amounts of other metals, such as aluminum, manganese, phosphorus, and silicon, may also be present in the alloy.
Properties of Bronze
Many of the properties of bronze overlap with those of copper and brass. For example:
Excellent thermal conductivity

Resistance to saltwater corrosion

High ductility
Bronze fabrication material offers a slightly antiqued yellow-metal look ideal for mixed metal and alternative-metal designs. As a base metal, bronze also provides a very affordable price point.